MBA - Employability
Management
Overview
Electives
Course Structure
Certifications
Career Prospects
Top Recruiters
Eligibility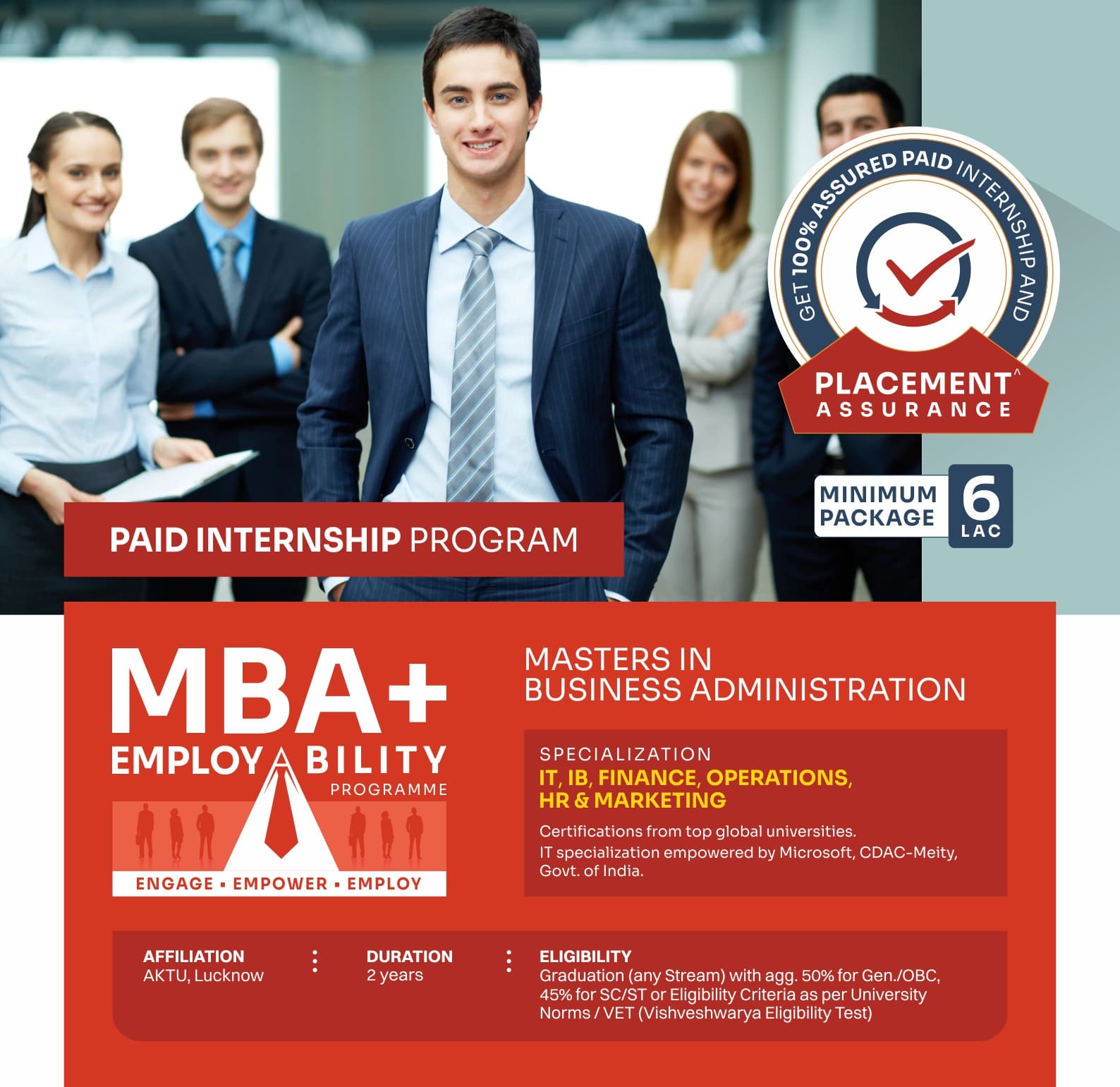 The MBA + Employability program is a tailor-made program with a vision to Engage, Empower and Employ the aspirants. This program has been meticulously designed to impart the ability of strategic business, decision-making, and other needed skills among the students. The aspirants are sensitized through various industrial case studies to imbibe the required skill with the precision of executing the business intelligence to click highly paid positions in Global Corporate Sector.
Vision
To prepare and develop Human capital as per industry requirement & to bridge industry-academia gap in sync with New Education policy.
Mission
Engage, Empower & Employ to execute and implement Employability.
Human Resource
International Business
Information Technology
Marketing
Finance
Operations
Duration
Executed By
Certifying Agency
Certification Methodology
Contents
15 Days
Holistic PDP Team
CRC, VGI
Training succeeded by Practice Test

5 Days Cognitive Skills
5 Days Communication and Corporate Behaviour
3 Days Internal GD & PI by CRC, VGI
2 Days mock GD and PI by Industry experts
Management Concepts and Organizational Behaviour
40 Lectures
35 Internal Faculty 5 Corporate Behaviour Expert
AKTU & Certified CBE
Teaching succeeded by Sessional Tests and Univ. Exams
AS per AKTU Syllabus
Managerial Economics
40 Lectures
30 Internal Faculty 10 Expert Economist
AKTU & Certified Economics
Teaching succeeded by Sessional Tests and Univ. Exams
AS per AKTU Syllabus
Basics of Data Types and Microsoft Excel and Office
20 Lectures
Microsoft Certified Expert
Microsoft
Training –Practice succeeded by Test Conducted by Microsoft
As per course content of Microsoft Office Package
Financial Accounting & Analysis
40 Lectures
30 Internal Faculty 10 Certified Financial Expert
AKTU & Certified Financial Expert
Teaching succeeded by Sessional Tests and Univ. Exams
AS per AKTU Syllabus
Business Statistics & Analytics
40 Lectures
30 Internal Faculty 10 Certified Statistician
AKTU & Certified Statistician
Teaching succeeded by Sessional Tests and Univ. Exams
AS per AKTU Syllabus
Marketing Management
40 Lectures
35 Internal Faculty 5 Marketing Expert (Zonal Level)
AKTU
Teaching succeeded by Sessional Tests and Univ. Exams
AS per AKTU Syllabus
Design Thinking
40 Lectures
30 Internal Faculty 10 (workshop on Design Thinking)
AKTU
Teaching succeeded by Sessional Tests and Univ. Exams
AS per AKTU Syllabus
Business Communication
40 Lectures
40 Internal Faculty 5 Mock Business Role based assembly
AKTU
Teaching succeeded by Sessional Tests and Univ. Exams
AS per AKTU Syllabus
Advanced Microsoft Excel and Data analysis
30 Lectures
30 Training and project Practice
Microsoft
Training –Practice succeeded by Test Conducted by Microsoft
As per Microsoft Package and Practice assignments derived from case studies
Laboratory
IT Skills Lab-1
40 Lectures
30 Internal Faculty 10 Industry expert
AKTU
Teaching succeeded by Sessional Tests and Univ. Exams
AS per AKTU Syllabus
Mini Project -1
40 Lectures
30 Internal Faculty 10 Industry expert
AKTU
Teaching succeeded by Sessional Tests and Univ. Exams
Project on Design Thinking Business Data Analysis and Business Forecasting
AKTU End Semester Examinations
National Campus Immersion Program
7-10 Days
3 days International Business Practices 4 Days Presentation of Case Studies 3 Days leisure Tour
CRC VGI
NA
As per CRC VGI
Business Environment & Legal Aspect of Business
40 Lectures
30 Internal Faculty 10 IB law experts
AKTU & IB Law Experts
Teaching succeeded by Sessional Tests and Univ. Exams
AS per AKTU Syllabus
Human Resource Management
40 Lectures
35 Internal Faculty 5 HR from Business Analysis Industry
AKTU
Teaching succeeded by Sessional Tests and Univ. Exams
AS per AKTU Syllabus
Business Research Methods
40 Lectures
20 Internal Faculty 20 Professors from IIM's
AKTU
Teaching succeeded by Sessional Tests and Univ. Exams
AS per AKTU Syllabus
Financial Management & Corporate Finance
40 Lectures
25 Internal Faculty 15 Certified CA
AKTU
Teaching succeeded by Sessional Tests and Univ. Exams
AS per AKTU Syllabus
Operations Management
40 Lectures
30 Internal Faculty 10 Industry expert
AKTU
Teaching succeeded by Sessional Tests and Univ. Exams
AS per AKTU Syllabus
Quantitative Techniques for Managers
40 Lectures
30 Internal Faculty 10 Industry expert
AKTU
Teaching succeeded by Sessional Tests and Univ. Exams
AS per AKTU Syllabus
Basics of PYTHON Programming
10 Lectures
Certified Programming Trainer
Microsoft
Practical Training and Testing
Algorithms Basics of PYTHON
Digital Marketing & E-commerce
40 Lectures
30 Internal Faculty 10 Expert from e-commerce company
AKTU & certified e-commerce Trainer
Teaching succeeded by Sessional Tests and Univ. Exams
AS per AKTU Syllabus
Management Information Systems
40 Lectures
30 Internal Faculty 10 Microsoft Certified Expert
AKTU & Microsoft Certified Expert
Teaching succeeded by Sessional Tests and Univ. Exams
AS per AKTU Syllabus
Advanced Programming in PYTHON and Data Analysis
40 Lectures
Expert developer from Data Science Industry
Microsoft

Data Science Python Tools

Scikit-Learn
Keras Theano
SciPy
Automation Testing
Python Tools
Selenium Robot
Framework
TestComplete

Lab
IT Skills Lab-2
40 Lectures
30 Internal Faculty 10 Industry expert
AKTU
Teaching succeeded by Sessional Tests and Univ. Exams
AS per AKTU Syllabus
Mini Project -2
40 Lectures
30 Internal Faculty 10 Industry expert
AKTU
Presentations of mini case studies on data analysis
Business Forecasting Analysis for Potential Market Case studies
End Semester University Examinations
15 Days GD PI practices Through Virtual Mode
Strategic Management
40 Lectures
35 Internal Faculty 5 Industry expert
AKTU & Renowned business strategist
Teaching succeeded by Sessional Tests and Univ. Exams
AS per AKTU Syllabus
Innovation and Entrepreneurship
40 Lectures
30 Internal Faculty 10 Founder CEO's of Start ups
AKTU Start-ups & IIC, VGI
Teaching succeeded by Sessional Tests and Univ. Exams
AS per AKTU Syllabus
Human values and Professional ethics
40 Lectures
30 Internal Faculty 10 Industry expert
AKTU & Certified experts
Teaching succeeded by Sessional Tests and Univ. Exams
AS per AKTU Syllabus
International Immersion Program
8-10 Days
Data Science using PYTHON Pattern Recognition
Microsoft

Data Science Python tools

Scikit-Learn
Keras
Theano
SciPy Execution of Cases on Industrial experts

International Business Management
40 Lectures
30 Internal Faculty 10 Industry expert
AKTU
Teaching succeeded by Sessional Tests and Univ. Exams
AS per AKTU Syllabus
Export Import Documentation
40 Lectures
30 Internal Faculty 10 Experts for Export Houses
AKTU
Teaching succeeded by Sessional Tests and Univ. Exams
AS per AKTU Syllabus
Data Analytics for Business Decision
40 Lectures
20 Internal Faculty 20 Experts on Data Analytics
AKTU
Teaching succeeded by Sessional Tests and Univ. Exams
AS per AKTU Syllabus
Artificial Intelligence & Machine Learning for Business
40 Lectures
20 Internal Faculty 20 Experts on AI experts from Industry
AKTU
Teaching succeeded by Sessional Tests and Univ. Exams
AS per AKTU Syllabus
Summer Training Project report and Viva-Voce
Project Report presentation to Experts of AI and ML, all reports would be based on AI & ML for business decision making. Report should include decision outcomes
AS per AKTU Syllabus
Emerging Technologies in Global Business Environment
40 Lectures
30 Internal Faculty 10 Lectures by experts from Global Business houses
AKTU
Teaching succeeded by Sessional Tests and Univ. Exams
AS per AKTU Syllabus
International Logistics
40 Lectures
30 Internal Faculty
10 by SCM expert
AKTU
Teaching succeeded by Sessional Tests and Univ. Exams
AS per AKTU Syllabus
Cross Cultural Management
40 Lectures
30 Lectures & 10 hrs immersion in cross cultural environment
AKTU
Teaching succeeded by Sessional Tests and Univ. Exams
AS per AKTU Syllabus
International Trade Laws
40 Lectures
25 Internal Faculty
15 by Experts from Export Houses
AKTU
Teaching succeeded by Sessional Tests and Univ. Exams
AS per AKTU Syllabus
Database Management System
40 Lectures
30 Internal Faculty
10 Industry expert
AKTU
Teaching succeeded by Sessional Tests and Univ. Exams
AS per AKTU Syllabus
Cloud Computing for Business
40 Lectures
30 Internal Faculty
10 Industry expert
AKTU
Teaching succeeded by Sessional Tests and Univ. Exams
AS per AKTU Syllabus
Business data warehousing and Data mining
40 Lectures
30 Internal Faculty
10 Industry expert
AKTU
Teaching succeeded by Sessional Tests and Univ. Exams
AS per AKTU Syllabus
Research Project Report & Viva Voce
Final project report should by certified by at-least three industrial experts else will not be accepted
AS per AKTU Syllabus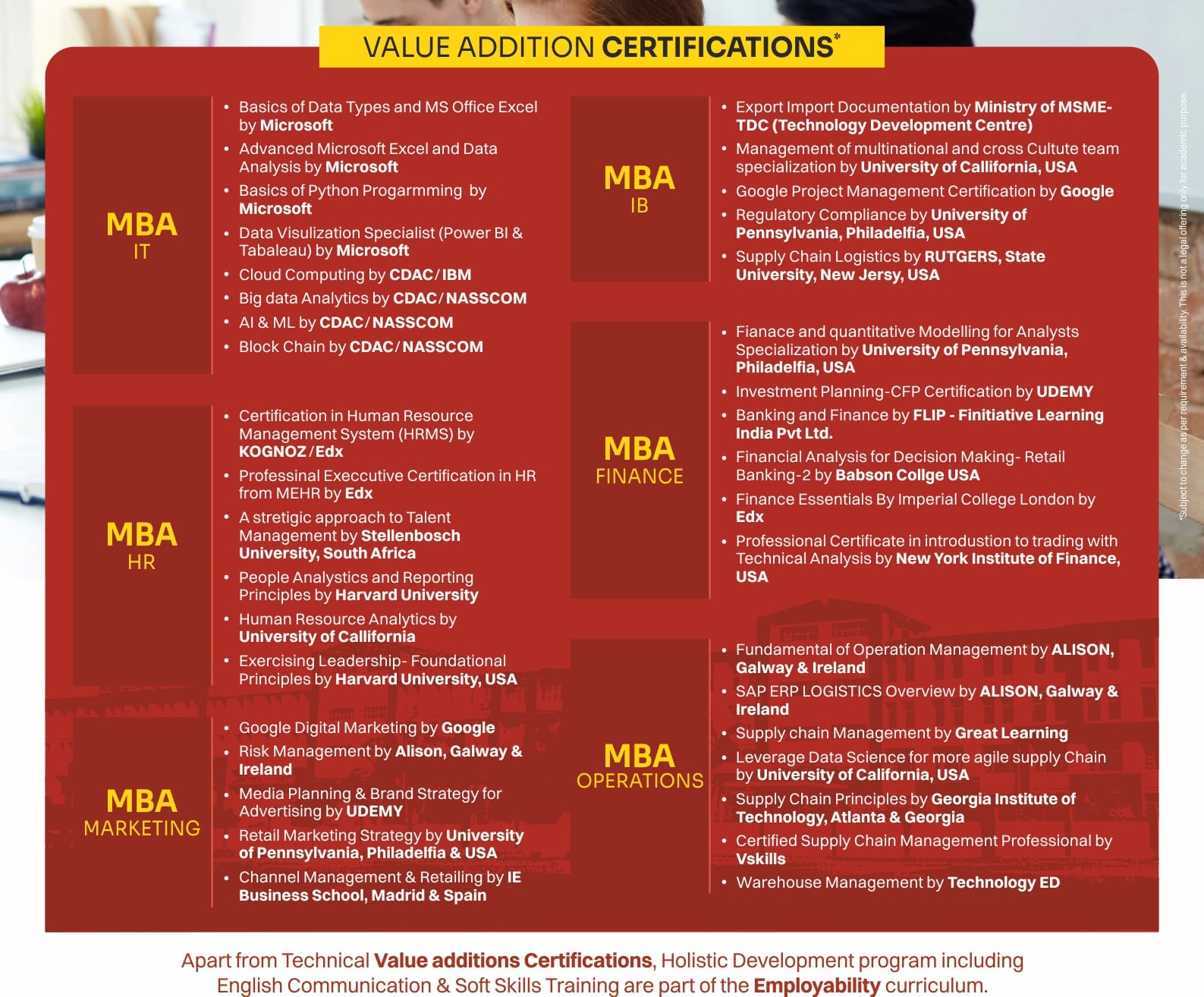 Eligibility : Graduation (any Stream) with agg. 50% for Gen./OBC, 45% for SC/ST or Eligibility Criteria as per University Norms / VET (Vishveshwarya Eligibility Test)